Price is the basic criterion when choosing the exterior door. However, is it the most important factor? It may turn out that a given model of the exterior door is disproportionately expensive to its poor quality or, contrarily, the door will be cheap being at the same time pretty solid.
From which material should we choose the entrance door?
On the market you can find exterior doors made from steel, wood, PVC or aluminum.
The most popular entrance doors are steel ones as they are stout, solid and usually pretty cheap. They have a wooden or steel frame that is covered with metal sheets. They can be finished with wood-like veneers or lacquer painted. The more expensive ones have a wooden or plywood finish.
Wooden entrance doors
Wooden doors are expensive. They have a frame and a casing made from wooden sizing while a wing of the door is covered with plywood, HDF panel or particle board plywood. There is a noble oak, pine, mahogany or meranti veneer on the surface. They have good thermal parameters. The best entrance doors achieve U = 0,7-0,8 W/(m2.K).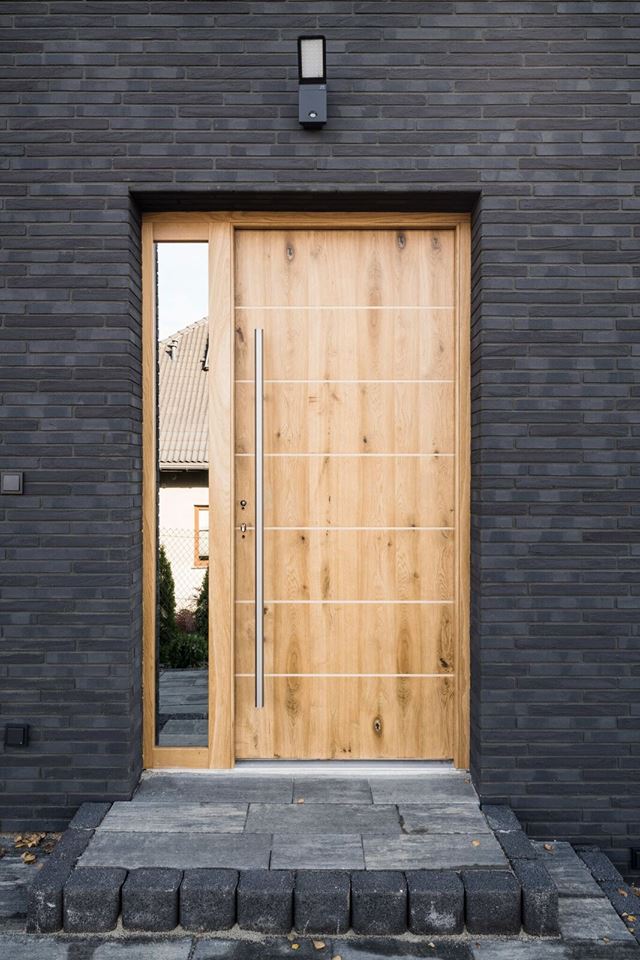 Jagcal - hardwood front doors / oak or pine back door
A door set – how it is build?
The door set consists of a door wing, a casing on which doors are hung on hinges and a threshold. A door wing can have a board or a panel structure. The first one is made of a frame covered with boards and is usually quite thick. Inside the board, thermal insulation material is placed. Doors are warm if there is a lot of it. Inside the door wing there are steel or aluminum reinforcements sheets. Due to them, the door wing is more rigid, stout and more resistant to any forced entries or a fire. On the market, the highest number of doors have a board structure. The wing also has a panel structure, however, it is divided into smaller fields that are filled with panels. Those types of doors are decorative, yet usually a lot thinner. They contain smaller amount of thermal insulation, therefore, are colder. Sometimes panel doors have embossing that imitates panels. The casing is a frame that consists of two vertical molding connected horizontally at the top. On one side, hinges are located on which the door wing is embedded. The casing should be adjusted to the weight of the wing. For heavy wooden or steel doors it should be really thick and solid. Massive casing could be filled with thermal insulation material. The threshold is usually made from steel or aluminum. It has a multi-chamber profile that could also be filled with thermal insulation. The threshold made from a solid wood is used in the majority of traditional solutions. Gaskets, preferably double or triple ones, should be placed around the perimeter of the wing and the casing. They are constructed in a way that when a door closes they overlap. Gaskets, usually double ones, are also fitted at the bottom of the wing and the threshold and they are made of EPDM that is a synthetic rubber. An interesting solution are automatic, falling gaskets that at the time of closing the entrance door they descend and fill in the aperture under the wing.
How to choose exterior door? Technical requirements
Exterior door should be warm, lasting, airtight and quite. Modern doors have a multilayered construction so that in the inside of the wing as well as the casing, the frame and even the threshold thermal insulation material could be fitted. A thick wing can fit in a lot of polyurethane foam, rock wool or Styrofoam. This is the reason why good entrance doors are thick and massive. What is more, they should have at least two gaskets around the perimeter. Thick doors that are filled with a heat-insulating material are also quieter and soundproof. Their acoustic insulation indicator usually states at least 30 dB. Good quality doors should have at least class 5 of mechanical durability that is they should withstand 100,000 opening/closing cycles.
How to choose entrance door? Size
Doors cannot be small as furniture is brought through them while furnishing the home. What is more, everyday carrier bags with our shopping are also brought to the house in addition to simply people walking through them. Asymmetrical double doors are also very popular. In here, the side wing is usually the one that opens allowing to create a really wide entrance to a home through which one can easily bring larger items. Nowadays, doors with illumination, that is an element that is glazed either on a side or at the top, are fashionable. Side illuminations can be allocated at both sides of a door. Usually, elements are 40cm wide as it is proportional to a standard door measurement.
What does security door mean?
The entrance door should guard the house from unwanted access. For this task, it is best to choose doors of the 3rd or 4th class of anti-burglary protection (formerly marked as the letter C). It means that the door will resist a burglar, equipped with professional tools, for at least 20 min. That amount of time should allow the security to intervene. Such doors should also have a certificate issued by The Institute of Precision Mechanics (IMP). Security doors have steel frames and its structure is reinforced with steel ribbing. When trying to cut out a hole, rods revolve in such a way that they cannot be cut. The door wing should be covered or reinforced with two metal sheets that prevents cutting a hole in it. Anti-theft bolts should be situated on the wing's perimeter so that when door closes they delve into slots in the casing. Such doors cannot be broken down. These types of doors should be equipped with two locks, the central one (C class) is hidden inside the wing and bolts the door in at least three places located within 60 cm from each other around the perimeter. The other lock, outer, is fitted from the room's side.